OCTOPUS
System for processing 177Lu prepared by neutron activation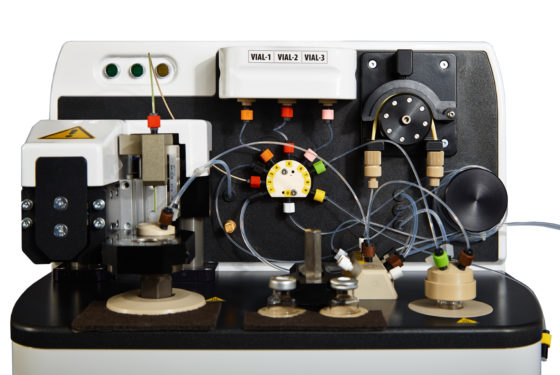 Device processes automatically the neutron-irradiated, 177Lu enriched targets. The processing covers dissolving the target, evaporation into dryness and re-dissolving the residual in an appropriate solvent in order to obtain 177Lu solution for radiolabelling. Moreover, OCTOPUS can be used for simple labellings with 177Lu. The device offers dispensing of the product, too.
Designed to reach high extraction yield from hybrid ampoule and fast processing of further steps (formulation or simple labelling process)
Automatic processing of neutron-irradiated targets
Covering dissolving of the target, evaporation of dryness and re-dissolving the residual in an appropriate solvent for radiolabelling
Simple labelling and dispensation available
System driven by PLC and I/O cards, communication with PC via Ethernet cable
System allows for fully automated operation starting from preparation of the sample before an irradiation and its complete processing after the irradiation
Key features
Peristaltic pump, 9/10 selector, handling device for loading, screwing, unscrewing
Horizontal working desk equipped with the three PEEK solenoid valves
Formulation reactor provided with a GM-tube for activity measurement and with heating and cooling unit
Three inlets for stock solution and one inlet for large volume stock (mobile phase, washing phase)
One vial for collecting of the enriched material or for reserved volume, one vial for collecting the final product
Technical parameters
Module dimensions app. 41 x 51 x 50 cm
External power supply 230 VAC / 24 VDC
Inlet for pressure air / noble gas up to 7 bar
1 GM tube for high activity measurement
Allows to process high incoming activities in order of hundreds of GBq
Dissolving and evaporating unit (heating up to 150 °C)
Need help?
If you have an enquiry about any of our products or services, please do not hesitate to give us your feedback or suggestions.