ISOMED 2010
Dose calibrator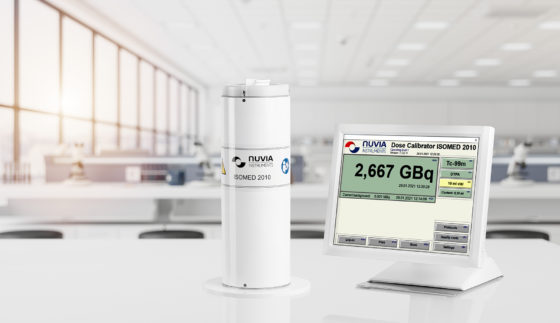 NUVIATech healthcare has over 60 years experience developing and assembling high quality dose calibrators, making us one of the most experienced manufacturers in the market.
The ISOMED 2010 Dose Calibrator is designed for the fast and accurate determination of the activity and volume activity of radioactive isotopes used for diagnostic testing and treatment in nuclear medicine.
The system is capable of measuring radioactive substances in liquid or gaseous form, such as hypodermic syringes, injection bottles or sealed ampoules. Selected solid radioactive substances (capsules, seeds, and afterloading) can also be measured.
KEY FEATURES
Fast and precise activity determination of radiopharmaceuticals used in nuclear medicine
Well-type ionization chamber with USB connection
Standard measurement chamber calibrated for more than 30 nuclides (including Y-90, Re-186, Lu-177, I-124 and Ra-223)
Expandable radionuclide database
Calculation of the activity to assure the correct time of medication administration
Fast and accurate calibration, accounting for the isotope measured, the sample container used and the amount of sample present using an internal isotope factor table
Integrated quality controls according to DIN EN 61303 (IEC 61303) and DIN 6855-11 (IEC 61948-4)
Testing for Mo-99 breakthrough according to DIN 6854 (European Pharmacopoeia 10.0)
Quality Control Protocols which meet medical authority requirements
Measured values can be saved, exported and printed out
MAIN COMPONENTS
Software Dose calibrator ISOMED 2010
Standard measurement chamber with sample holder
Accessories
PC system with monitor (optionally with touch screen function)
Additional shielding
Test source Cs-137
Label printer and protocol printer
Molybdenum kit
Y-90 pSet
Need help?
If you have an enquiry about any of our products or services, please do not hesitate to give us your feedback or suggestions.