ISOMED 2010
Dose calibrator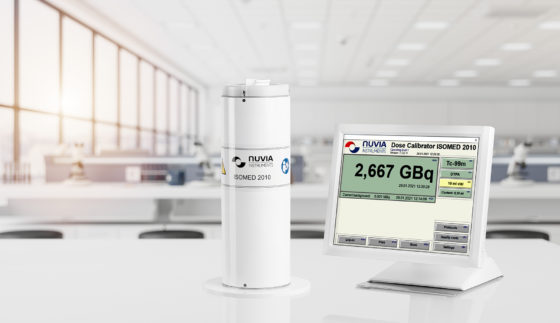 For over 60 years, we have been developing and assembling high quality dose calibrators, which makes us one of the most experienced manufacturers of these products.
The result of this experience and continued cooperation with our customers is a modern, practical and user-friendly measuring system.
Our PC-based dose calibrators such as ISOMED 2010 are used for fast and precise activity or volume activity determination of all radiopharmaceuticals used in nuclear medicine.
Key features
Fast and precise activity determination of all radiopharmaceuticals used in nuclear medicine thanks to a well-type measuring chamber with USB connection
Standard measuring chamber calibrated for more than 30 nuclides (also 90Y, 186Re, 177Lu, 124I and 223Ra), extendible nuclide library
Various chamber types available, e.g. PET, high activity, wide diameter
Integrated quality control (required by IEC 61948-4) for background, responsiveness, linearity, molybdenum-breakthrough and constancy check
Protocols meet the requirements of the medical authorities to provide evidence of the performed quality checks
Possibilities to link to radiopharmaceutical management programmes or RIS-systems via optional HL7-interface
Accessories
When using a touch-screen function, you can work completely without mouse and keyboard
The results can be stored and/or printed
Need help?
If you have an enquiry about any of our products or services, please do not hesitate to give us your feedback or suggestions.