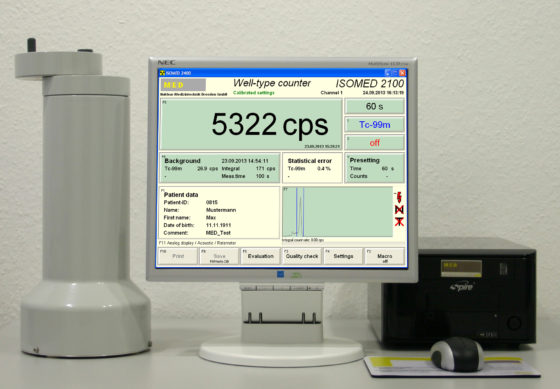 The PC-based well-counter ISOMED 2100 is a standard measuring system for clinical use.
With a fast MED multi-channel analyser and a high-sensitivity NaI-scintillation detector, the digital measuring value and the energy spectrum are displayed online
An automatic dead time and background correction can be activated
Quality checks according to IEC 61948-1
CLEAR 2000
Clearance software
For calculation of the kidney clearance in case of decreasing plasma level (slope)
Based on a procedure of Tauxe et al. in which the specific plasma concentration at defined times after application of a renally eliminated substance are empirically assigned to the clearance values of  a reference method, which means that only a blood sample is required
Need help?
If you have an enquiry about any of our products or services, please do not hesitate to give us your feedback or suggestions.