ISOMED 2100
Well-type Counter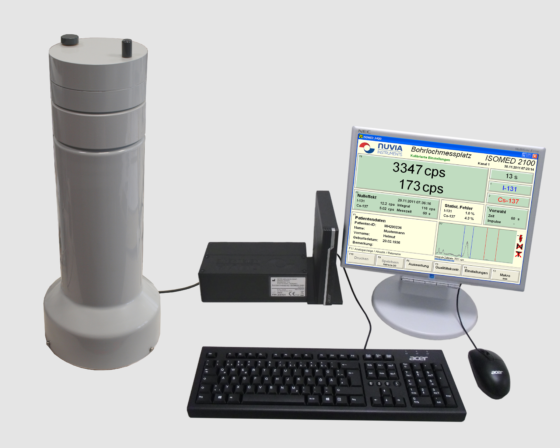 The ISOMED 2100 Well-type Counter is a nuclear medicine measurement system for nuclide-specific measurement of gamma-emitting samples with low activity and small volume.
The system uses a highly-sensitive Nal scintillation probe with a central hole into which the sample is inserted. The pulses arriving on the detector are processed by a multi-channel analyser and output as a digital measured value. Additionally, the measurements are displayed graphically as an energy spectrum.
KEY FEATURES
Many different nuclides to choose from
Measurements in 4π geometry, i.e. the sample is surrounded on all sides by the scintillator crystal
Graphical display of the energy spectrum
Automatic dead-time and background correction can be activated
Integrated quality controls according to DIN 6855-1 (IEC 61948-1)
Measured values can be saved, exported, printed and graphically displayed
MAIN COMPONENTS
PC system with monitor
Software Well-type Counter ISOMED 2100
2" x 2" NaI szintillation probe with borehole
MCA USB Box
Well shielding
ACCESSORIES
Additional shielding
Test source Cs-137
Printer
Need help?
If you have an enquiry about any of our products or services, please do not hesitate to give us your feedback or suggestions.