STINGRAY
Versatile system designed for microfluidic radiochemistry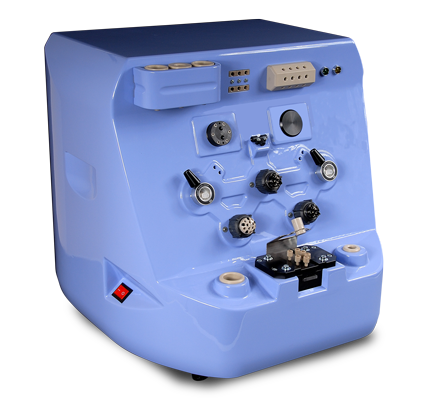 STINGRAY consists of a versatile automated device for operating a microfluidic chip, manifold chip holder, and microfluidic chip. The whole system can be modified by adapting a number and parameters of its parts according to the individual requirements of a customer. This may reduce the final cost. The heart of the microfluidic system is PMMA based chip with six independent inlets. All the inlets can be used for specific purposes.
Designed for microfluidic operations like precise mixing, separation, extraction, nanoparticle formation, etc.
The platform offers a number of connections for various microfluidic operations
The whole system can be modified according to individual requirements of a customer
The low cost alternative of the microfluidic system represents a single manifold chip holder, allowing on-line monitoring of the processes run on the microfluidic chip
The module contains a PLC; no additional switchboard is used
The PLC is controlled via a control PC equipped with user-friendly interface
Connection between the module, the PLC and a control PC is carried out using an Ethernet cable
Key features
Enabling repeated return of a sample to the microfluidic chip, which can result in a significant increase of the yield
Including three independent inlets for three different mobile phases with built-in degasser
Four PEEK solenoid valves, two independent nanopiston pumps, two selectors (6/7), two manual injector valves with 100 μl loop volume (adjustable), 2/10 valve, three check valves
Automatically operated manifold for a microfluidic chip
Technical parameters
Standard width of a channel of the whole chip area
100 μm, can be lowered down to 5 μm
Chip resistant to pressure up to 200 bar
Standard high pressure connection with ¼-28 UNF fitting
Need help?
If you have an enquiry about any of our products or services, please do not hesitate to give us your feedback or suggestions.