CRAB
Versatile platform for processing of cyclotron-produced radiometals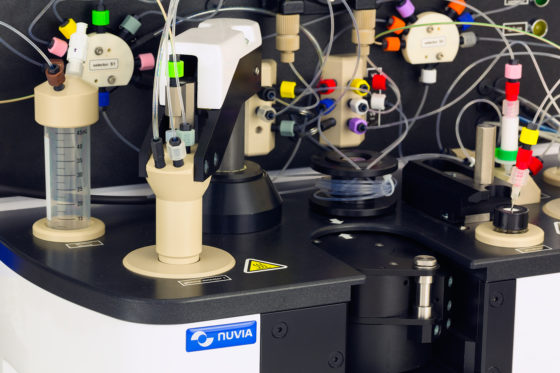 CRAB represents a system covering all steps of processing of a solid target irradiated at a cyclotron. Using a unique design, it allows dissolution of the produced radiometal, radiochemical separation, formulation, and simple labelling. Together with various accessories, CRAB can serve as a comprehensive radiochemical system enabling hand-free management of the whole production process, including automatic target loading to the cyclotron and transportation of the irradiated target to a hot cell.
Fully automised system to increase reproducibility and to minimise personnel dose intake
Separation process based usually on solid phase extraction (SPE), finished by formulation of the separated radionuclide into a desired solvent
Easy adjusting of the final activity concentration according to the particular needs
System driven by PLC and I/O cards, communication with PC via Ethernet cable
External cyclotron target chute enabling hand-free loading of irradiated target into the shielding container as an option
CRAB2RABBIT
CRAB2RABBIT is a unique solution for production of cyclon medical radiometals and their compounds.
This solution covers all the steps from the target handling up to labelled compound.
CRAB2RABBIT provides automated, fully remote-controlled procedures that exclude manual intervention during the target processing and labelling/separation steps.
CRAB2RABBIT fully automated process covers:
preparing of a solid target for irradiation
transport of the target to a cyclotron
loading of the target to a target holder
unloading of the irradiated target and transport to a hot cell
loading of the target to the automated module that provides radionuclide´s separation and labelling
Key features
Two reactors, two selectors, a peristaltic pump, 3/2 way valves, and a separation column
Up to four positions for the uploading of solvents into the first reactor or to the SPE column regarding separation steps
Three positions for the uploading of solvents to the reactor R2 that may be used for formulation or for simple labelling steps
In­built solid phase extraction column for the separation driven by peristaltic pump and solvents
Wide variety of processable radionuclides such AS 61Cu, 64Cu, 68Ga, 89Zr, etc.
Technical parameters
Module dimensions app.50 x 50 x 50 cm
External power supply 230 VAC / 24 VDC
Inlet for pressure of air / noble gas up to 7 bar
3 GM tubes for high activity measurement
Allows processing of high incoming activities in order of hundreds of GBq
Need help?
If you have an enquiry about any of our products or services, please do not hesitate to give us your feedback or suggestions.