ISOMED 2154
Inline waste water counter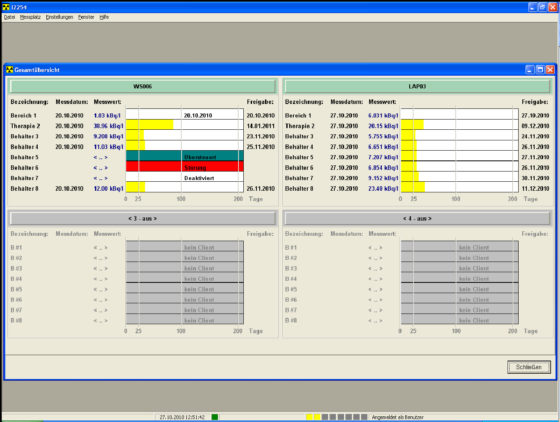 The Waste Water Counter ISOMED 2154 is meant for γ-spectrometric inline activity measurement of 131I (other nuclides on request) from waste water of nuclear-medical institutes, which is stored in decay containers.
The NaI-scintillation probes are positioned in an inner pipe in the middle of the storage tank
Up to 8 containers can be monitored simultaneously
The system parameters can be set in various ways according to user requirements
ISOMED 2254
Display and evaluation software
The display and evaluation programme ISOMED 2254 allows the combination of up to 8 inline waste water counters NuWM ISOMED 2154 in one application
Up to 64 decay containers can be displayed in total
The counters can be displayed individually or simultaneously
Disposal activity and disposal volume during evaluation are calculated
Need help?
If you have an enquiry about any of our products or services, please do not hesitate to give us your feedback or suggestions.