NuRAD 8200
Concrete based lead-free material for shielding construction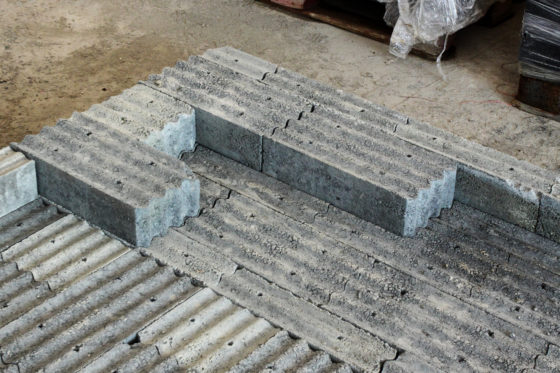 The NuRAD 8200 modular system enables the quick and clean erection of shielding constructions with no need of heavy technique.
Specific manufacturing together with wave interlock ensure high stability of the shielding walls with no need for mortar or glue.
The system is ideal for the reinforcement and upgrading of existing shielding bunkers, for removable enclosures of maintenance openings and other situations, where heavy and dusty work need to be avoided.
Key features
Very firm solution – max. gap between the bricks 2 mm
Wavy interlocks block radiation from passing through
Dry and clean construction, no mortar nor glue needed
Fast construction – app. 2 m3/h in groups of three workers (depending on complexity of the construction)
No need for heavy machinery
Easy decommissioning, no health hazard
Technical parameters
Standard densities (median): 2.3 t/m3, 3.5 t/m3, 4 t/m3, 5 t/m3
Standard brick dimension:100 x 200 x 400 mm (h x w x l)
Magnetite and cast iron used to raise the density
Hand-held manipulators to simplify manipulation with the bricks
System options
Optional boron content (usually 1% to 5%) to shield neutrons
Patended low background material with low internal content of radionuclides
Seismic reinforcement using steel rods is available
Specifically requested density ranges from 2.35 t/m3 to 5 t/m3
Hematite and stainless steel instead of magnetite and cast steel when non-magnetic properties are requested
Different dimensions and shapes of the bricks
Individual prefabricates for ceilings and other constructions
Various surface finishing and painting enabling easy decontamination, application in clean-rooms, etc.
Need help?
If you have an enquiry about any of our products or services, please do not hesitate to give us your feedback or suggestions.