LIRW
Central system for the collection, storage and release of liquid radioactive waste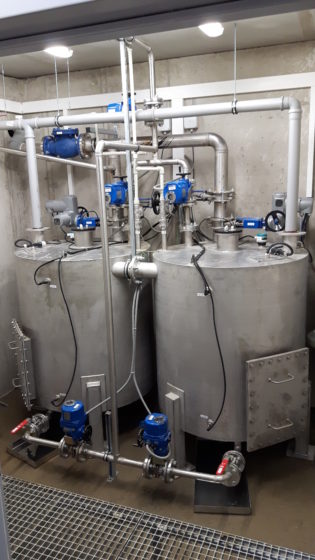 The system consists of several stainless steel tanks connected to a facility sewerage system, where radionuclides may occur. The system is universal and can be implemented in any kind of facility. The system can be customised (number of tanks, volume) according to the project specification.
Hardware and software enabling management of the system are part of the system. It is fully automatic; however,  manual control is available. The system consists in the following parts:
Tanks for the retention of liquid radioactive waste
Pumps
Valves
Stainless steel piping
In each tank the following measurements are available:
Continuous liquid waste level measurement
Maximum and minimum liquid waste level measurement
Measurement of Tank radioactivity levels (liquid waste volume radioactivity monitor)
Key features
Collecting of liquid radioactive waste from all controlled areas in the facility
Temporary retention (storage) of the waste
On­line control & measurement of the waste
Controlled release to the sewerage
Additional functions
Blocking the release of liquid waste when levels of radioactivity exceed the determined reference level
Monitoring of the progress of individual radionuclides contained in the liquid waste radioactivity
Monitoring of the level of individual tanks
Switching the inlet of the radioactive waste to any of the tanks
Mixing of liquid radioactive waste in each tank
Pumping of the liquid radioactive waste from one tank into another
Control of liquid waste release to the sewerage
Controlled fooding of the tanks (in the case of upcoming food)
Need help?
If you have an enquiry about any of our products or services, please do not hesitate to give us your feedback or suggestions.