ALMO
Alarm monitor – stationary dose rate monitoring system with external detectors
The ALMO alarm monitors are used to monitor radiation dose rates in the laboratory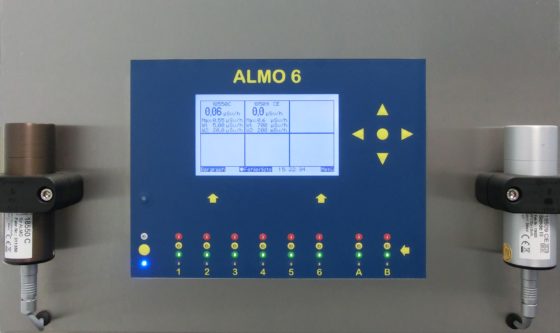 production facilities.
The systems consist of a basic device with LCD and electronics, combined with one or more probes and external alarm units.
Depending on the version, it is possible to connect 1, 3 or 6 detectors to the ALMO basic device.
The stand-alone ALMO-systems can be linked to a superior PC-system for central monitoring and documentation.
Key features
­µ-controller ­based measurement electronics
Digital measurement value information on large­ area, illuminated LCD
Measurement value display of dose rate with autoranging function
Externally connectable detectors (GM tubes, NaI detectors) with integrated high voltage and electronics
Automatic detector identifcation, allowing simple replacement of the detector
2 freely definable alarm thresholds per probe
Easy­ to­ operate measurement system with user guidance
Ergonomically shaped housing, desktop or wall version
Various visual/acoustic alarm units can be connected
Interfaces for measurement data transfer on external PC-system
Software for continuous dose rate measurement, including data storage
Also available with integrated battery backup
Technical data
NuRMS ALMO-1 one-channel system, 1 connectable detector
NuRMS ALMO-3 multi-channel system, up to 3 connectable detectors
NuRMS ALMO-6 multi-channel system, up to 6  connectable detectors
Afterloading version
Designed for manufacturers of afterloading systems
Indication if the therapy source is opened or closed
Generally the version with integrated battery backup is used in order to keep the system running in case of a power breakdown
An external LED-lamp with 3 levels (red/yellow/green) and a horn element showing the operating status
Operation of an electronic interlock available
Built-in version
Developed especially for the manufacturers of hot cells and isotope production facilities
Integrated in a stainless steel housing with mounting boreholes, installed behind the hot cell cover or in the door of a switch cabinet
The front panel with display, operator keyboard and LEDs embedded into the intended cut-outs of the covering or the door to form a flat surface with the outside
Essential advantages particularly with regard to clean room conditions
Need help?
If you have an enquiry about any of our products or services, please do not hesitate to give us your feedback or suggestions.